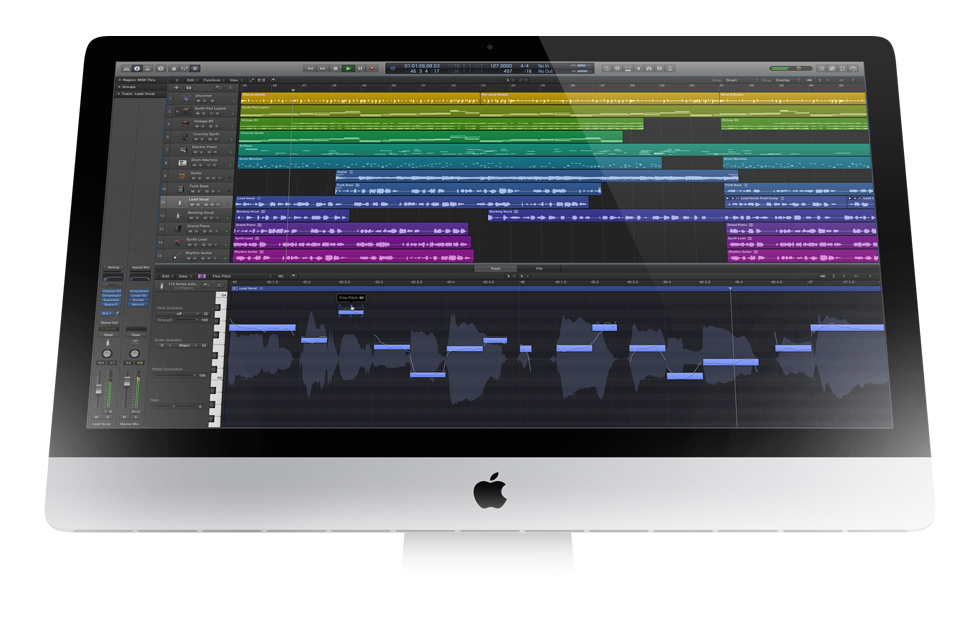 Logic Pro X has been announced by Apple computer. The long-awaited upgrade to its popular digital audio workstation, Logic Pro. Â The new version is called Logic Pro X, and boasts some new features.
Some new features we currently know of are:
– Overall new look
– New mixer design
– Track Stacks, which allow you to group multiple tracks into one group editable track
– A new score editor
– Track exporting to Soundcloud and other Apple products
Let's look at some of the standout features.
Drummer
A key feature being highlighted is "Drummer", which is  a "Virtual session player" which allows you to choose different drummers of varying styles and create fills and grooves using preset styles.
Apple is stating that this new feature is not a traditional drum synth, but rather a way of programming drums with a more natural feel. Â We'll test it and let you know.
Flex Pitch
Apple is also touting the new Flex Pitch feature, which from what we can see is an answer to Auto Tune plugins. Â Using it you can fine tune pitch, vibrato, and create pitch slides.
Logic Remote 
Another interesting new feature is the Logic remote, which allows you to control your Logic session from your iPad. Â This is very similar to the Presonus Studio Live features, which allow you to control your mix from an iOS device. Â The Remote app is available for free download from the app store.
We will be reviewing this new iteration of the popular DAW and giving you the full run-down, Â but if you want it now, you can purchase from the App store for $199. Â Beware, though; if you have not updated to Mountain Lion (OS X 10.8), or don't plan to, you can't use Logic Pro X.
What are your thoughts on this new Logic version?