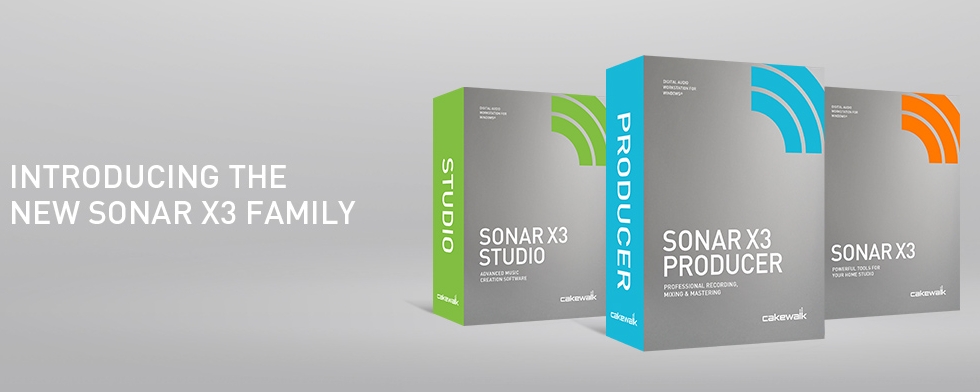 Cakewalk Software has announced Sonar X3, the latest iteration of their popular Digital Audio Workstation. Â Let's talk about some of the new features in this version!
Unlimited everything
Each version of X3 gives you unlimited tracks, FX sends, and full VST3 support.
Comping
Sonar X3's new comping engine allows you to more easily lay down multiple takes to get your production just right. Â You can then isolate and edit your performances to create the perfect track.
VST Enhancements 
VST 3 support is now integrated into SONAR X3. This will improve plugin management, CPU usage, and includes visual enhancements. Â Your plugins will be automatically scanned and added to your library, and all of your previous VST plugins will work out of the box.
Gobbler Integration 
SONAR X3 now supports Gobbler, the popular cloud-backup service to ensure that your sessions are saved and backed up without even having to think about it. You get 5gb of free Gobbler backup with your SONAR installation.
Custom Track Colors
It's now easier to customize and colorize your tracks to allow for easier navigation. Â ProChannel modules will follow your custom track colors, making application of effects much easier.
Melodyne Essential with ARA Integration
Melodyne, the popular pitch correction plugin, is now included in SONAR X3 Producer and Studio. Â This makes it easy to correct off-pitches, bad takes and a lot more, and do it all from in the box with SONAR.
QuadCurve EQ Zoom
The new QuadCurve EQ is more visual, and includes a new built-in spectrum analyzer. Â It is available in SONAR X3 Producer only.
Tape Emulator 
The new Tape Emulator addition to ProChannel will allow you to add the sound of analog tape to your mixes. It is Available in Producer only.
Tone2 BiFilter2
Included in Producer only, this plugin gives you 47 filter types to choose from.
Nomad Factory Blue Tubes FXÂ 
Available in Producer and Studio, This suite is influenced by vintage style gear, allowing you to load up phasers, chorus modules, and many other great analog effects.
Addictive Drums
SONAR X3 Producer ships with the full version of Addictive Drums, improving load times, flexibility, and loaded with professionally-recorded drum sounds for your productions.
Lounge Lizard Session
Available in Producer only, this plugin emulates classic Rhode pianos, to give you the sound of a a legendary instrument in your productions.
These are some of the great new improvements in SONAR X3 from Cakewalk; will you be upgrading?