Winter NAMM 2013 was one of the best NAMM shows we've seen so far, and we're happy to announce that we were able to be there! Â We're going to outline some of the awesome things we got to see at this year's show — starting, NOW!
The Numark Orbit wireless DJ controller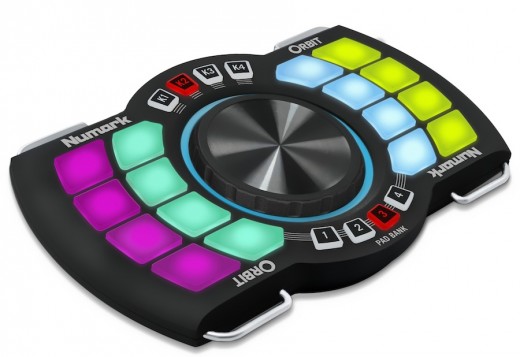 This was one of the coolest new music making toys we saw.  Utilizing a wireless connection to your computer, the  Numark Orbit interfaces with Traktor, Serato, Ableton, and other Digital audio Workstation applications, and allows you to wirelessly control effects, mixing, and more.  We saw some great live performance with it, and can see it being a great tool for live performance.  At only $100, the price is amazing, as well.   We're very much looking forward to seeing more done with The Numark Orbit.
Find out more about it at http://www.numark.com 
Ableton Push 
Ableton's Push hardware was another amazing demo we were able to see. Â Interfacing with Ableton's new version 9, it allows for quick and seamless music production without having to look at your computer. Â Featuring velocity-sensitive pads and a very easy workflow, this was easily one of the coolest new pieces of hardware we've seen. Â We're really looking forward to getting more hands-on with the Push hardware!
Find out more at http://www.ableton.com 
Radix SurferEQÂ 
The Radix Surfer EQ was definitely a very cool new plugin; it allows you to follow the pitch of a recorded pice of audio, and selectively boost or cut that one troublesome pitch. Â We can see a lot of very useful applications for the SurferEQ, especially when you're working in a live room situation and need to take out troublesome frequencies.
Find out more at http://www.soundradix.com/products/surfer-eq
Presonus 32.4.2 Digital Mixer 
It's no secret that we love what Presonus does here at OBEDIA, and we were very excited to see their new digital mixer, the 32.4.2. Â It's a 32 channel version of their Firestudio line of mixers, featuring Presonus' Fatchannel technology, new internal effects, 31 band graphic EQs, and of course, 32 channels to mix with!
Presonus also introduced their new Sceptre CoActual Monitors — new, bi-amplified studio reference monitors that utilize digital signal processing and are meant to be affordable for the prosumer musician.
Presonus Sceptre Monitors
We can't always hear how great something sounds on the NAMM floor (there's a lot of noise), but these monitors look great, and all sound tests we've heard point to them being great for the studio.
Find out more at http://www.presonus.com 
Zynaptiq Unveil -De-reverberation and signal focusing processor plugin
Zynaptiq was showing off some very cool plugins on the NAMM floor, and this was one that was quite impressive.  We've seen a million Reverb processing plugins, but never one which removes reverb! It uses Zynaptiq's MAP (Mixed-Signal Audio Processing) Technology to allow you to find an attenuate reverb in your recordings.  If you need to remove reverb from a recording (again, in a live room situation, this would be very useful), this plugin is sure to please.
Zynaptiq has a number of other great plugin offerings, so we suggest checking them out at http://www.zynaptiq.com/
Peavey AT-200 Auto-Tune Guitar featuring Antares Technology
There have been other attempts at auto-tuning guitars, but they usually made use of robotic options which took more time to tune your guitar than was optimal while on stage. Â That's all different now, with the Peavey AT-200 Auto-Tuning Guitar featuring Technology by Antares.
The guitar uses auto-tune for guitar to give perfect pitch on the fly by analyzing your signal in real time in the background. Â You don't have to do anything, except play. Â This is pretty exceptional, considering that staying in tune is very important for guitarists on stage and in the studio.
We were really impressed with the AT-200. Â It works great, and it's fast! Â New features can be added to the guitar using a software upgrade utility, so the sky is very potentially the limit when it comes to what this guitar will be capable of. We can't wait to get our hands on one and start playing with it!
Find out more at http://www.autotuneforguitar.com/partners/detail.php?partner=Peavey_Electronics_4
In closing 
There were a million great new instruments, toys, plugins, and other tools at Winter NAMM 2013, and to write about them all would take as long as it'll take for Summer NAMM to make its way here! Â We thought we'd outline some of the cool stuff we saw, but if there's anything you think we missed, please let us know!
Thanks as always for reading,
-The OBEDIA Team