Ableton Live 10 Push Improvements — What's new in Ableton Live 10?
CLICK HERE to learn Ableton Live one on one with a digital  audio professional at OBEDIA. 
On this opportunity we will be discussing Ableton Push Improvements.
To read part 1, New Devices in Ableton Live 10, click here.
To read part 2, Workflow Improvements in Ableton Live 10, click here. 
Ableton Live 10 brought brand new functions to Push as well as new high resolution visualization of devices. All of these changes were included in Live 10 in order to make the user spend less time looking at the computer screen and instead work directly from Push.
MELODIC STEP SEQUENCING LAYOUT
With this new function the user can now simultaneously sequence notes and play them from the same pad layout. This new note layout consist of a 32-step sequencer on the top half of the pad matrix and 32 notes on the bottom half. Ableton Live 10 users will be able to press pads in the bottom half section to select which notes to add via the "step sequencer" from the top half. Users will also be capable of seeing, adding and removing pitches from the steps by holding down the respective pads.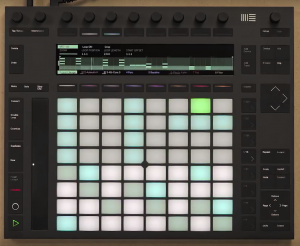 ADVANCED DEVICE VISUALIZATION
Now with Live 10, users of Push will be able to see many more options and parameters of their devices right on the Push screen. These new visualizations include Wavetable and Echo, the spectrum analyzer of EQ Eight as well as advanced Mid/Side and Left/Right EQ modes, real time audio visualizations of Live's Compressor, Simpler's envelopes and Operator's envelopes. All of these new implemented with the sole purpose of making the production workflow smoother since the user will now spend less time looking at the computer screen and working directly from the Push screen.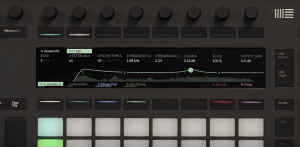 New improvements regarding MIDI notes include the possibility of navigating and refining the notes of the recorded phrases directly from the Push display without the need of using the computer screen. The parameters that can be modified include velocity, note position and length. MIDI clips can also be cropped from this screen.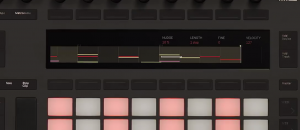 There are certainly some great new improvements to the Push hardware with Ableton Live 10, many of which will help users to navigate live via the Push hardware, rather than looking at a computer screen. This will be a great way for Ableton Live 10 users to take advantage of Ableton Live 10 Push Improvements and get a more dynamic workflow.
What do you think of the Ableton Live 10 Push Improvements? Tell us in the comments!
To learn Ableton Live one on one with a professional who will show you how to use Ableton Live in real-time, Click Here to join OBEDIA, or call OBEDIA at 615-933-6775 for live, one on one Ableton Live training!