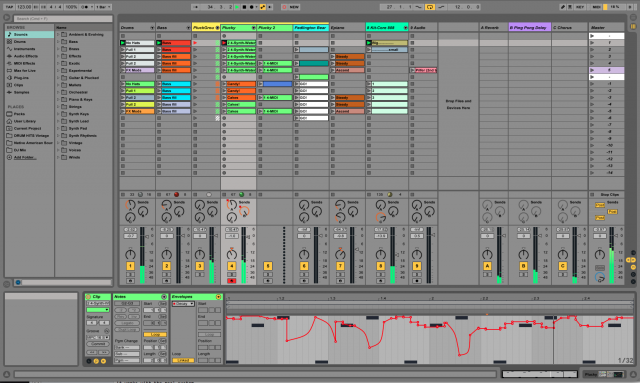 Ableton has announced Live 9, as we were expecting to happen soon after the video we recently spoke of which was posted to their Youtube page and then summarily removed. Â In addition to the new software, there is a new hardware addition, called "Push". Â We're reporting on what we know so far, so read on for more details!
What's new in Ableton Live 9?
Session Automation – You can now record automation into your session clips – this is a long awaited feature. Â You can also move these clips between session and arrange view.
Browser and sounds –  There is a new browser, allowing for faster searching for devices, sounds, and etc.  Speaking of sounds, Live Suite includes 3500 new sounds. The browser now allows you to customize your browsing experience; gone are the three folders which relegated you to browsing your sounds and library via only those sources.  There are drums by Sonic Couture, as well as new sounds from other artists and sound designers.  Previewing devices is also said to be easier, which should improve workflow.
Convert audio to MIDI – This is  a big one, as it's something we get asked about a lot here at OBEDIA.  You can now convert audio into editable MIDI clips, which can be used in your sessions.  This is a feature much like that found in Melodyne software, although the features are different.  You can't convert audio to MIDI and then edit its pitch, which is something which Celemony's Melodyne will allow you to do. We'll be interested to see how this works, as it has always been a tricky process; no one piece of software has managed to do it in a perfect way, will Ableton be the one?
Max4Live devices – There's a host of new Max4Live devices, such as new effects, instruments, and other bits to make noise with. Â To get access to them, though, you'll need the more expensive Live Suite.
New Glue Compressor – Modeled after analog hardware, the Glue Compressor is going to be popular with those of you who like to use parallel compression in your productions (Check out our video on that here:Â http://www.youtube.com/watch?v=KaHV_6eZjkA)
Improved EQ 8 – Â The EQ 8 has been improved with a new interface, allowing you to select and edit multiple frequencies at once. The filter quality is said to be improved, as well.
What about that hardware? 
Ableton has announced Push, an integrated, Ableton-branded piece of hardware which they state will help in the process of "starting a song from scratch". Â Some of the features of Push are:
– Touch strip/ribbon for expression (such as filter control)
– Navigation LEDs at the top of the hardware
– 64 backlit and touch sensitive pads for playing melodies and programming MIDI (such as those on the Launchpad by Novation)
– Touch-sensitive encoders
Ableton says Push will be able to play melodies and chords by wrapping a keyboard's worth of notes into the 64 pads. It is also stated that the hardware is very much meant for starting a song from nothing, playing and programming as you go along. When you've laid down the parts you want to work with, you can move to Live to start arranging and organizing your track.
Ableton Push will work with all versions of Ableton Live 9.
Ok, so when can I get Ableton Live 9? 
As we had mentioned in our previous post, we think it's likely that Live 9 will be released around Winter NAMM 2013, as Ableton states that Live 9 will be available "First quarter 2013". Â Beta testing is said to start in the next week or so (first week of November 2012). The cost will be:
Intro (without many bells and whistles) – $99 US
Standard (with some of the bells and whistles) – $449 US
Suite (with all the bells and whistles) – $749 US
These are all download prices, we're not sure about boxed versions just yet. Â If you buy Live 8 right now, though, you can get 25% off of it, and get Live 9 for free. Â As for upgrading from older versions, Ableton hasn't been clear on that just yet.
We're very excited about this new version of Ableton Live, and when we get it, you'll be the first to know. Â What are you excited about in Ableton Live 9?
Oh, and, here's some videos for you to check out:
Thank you for reading!