Over this past weekend, Ableton announced two big new things in the world of Ableton; Ableton Push 2, the evolution of Ableton's hardware controller/instrument, is now available, and Ableton Live has been upgraded to v9.5, which is a free upgrade for all Ableton Live users.
The big takeaways from this new hardware release:
Push has been redesigned from the ground-up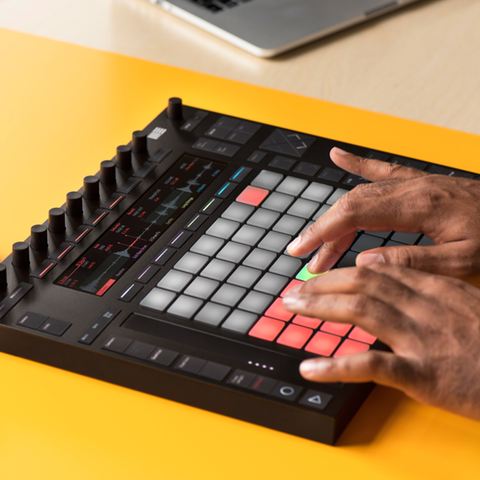 Ableton Push 2 was designed from the ground up by Ableton, taking into consideration the original design of Ableton Push, and improving on many factors.  The pads have been redesigned.  The backlight looks more clear, and the biggest deal — the top LED screens have been replaced with full-color LCD screens that give you more information than you've ever had about your Live Session as you work on it. They'll show you waveforms, plugin interfaces, filter controls, and more.
Yes, there are LCD screens!

A big complaint we had from many Push users was that they felt that the screens on the top of Push were not very useful for being able to produce while using the Push hardware.  Ableton has worked to remedy this with the new Push, replacing those amber-colored screens with new, full-color LCD screens that give you a full look at your Ableton session.  We had seen a lot of speculation about how these screens were going to be replaced, and it looks like Ableton has done a great job of answering the needs that many Ableton users have beens "Pushing" for.
Push now does plugins
Another gripe we'd heard from Ableton Push users was that Push didn't really interact with their Plugins.  That's now gone, with the introduction of the new LCD screens on Push.  You can work directly with your plugins on screen, on the device, with more parameters shown on the screens, allowing you to more accurately interact with the Ableton Push.
What do I do if I have a Push 1.0?
Push 1.0 is still a very viable, very cool, very useful instrument, and in fact, you can get great OBEDIA tutorials about it right here on OBEDIA (Click here to check that out). If, however, you are ready to upgrade to a new Push, you can trade yours in and get 30% off your order for a new Push.  Even better, Ableton will donate your old Push to education, which means that educational programs around the world can benefit from your upgrading to a new Push.  To take advantage of the Push trade-in program, you can click here: https://www.ableton.com/en/push-trade-in/
More to come 
We expect to see a lot more from Ableton and the new Push as the months go on. Of course, we'll have a full review of Push 2 coming soon, as well as tutorials.  In the meantime, if you are itching for a new Push, you can get your fix at http://www.ableton.com/push right now!
Find out more in the official Ableton Push 2 video, here:
For Ableton Live tutorials and training, check out our videos here: https://www.obedia.com/ableton-live