We're all anxiously awaiting the arrival of PreSonus Studio One Version 3, and while we do, we thought we'd talk about some of the improvements we expect to see in PreSonus' awesome Digital Audio Workstation. Note that we're simply musing, here, as we are all awaiting the release of the software to be able to see the real changes.  But hey, it doesn't hurt to dream, right?
Improved Graphical User Interface
Studio One has changed faces a couple times in its history, and each time, it has introduced a cleaner, more streamlined look.  We expect that Studio One version 3 will be no different.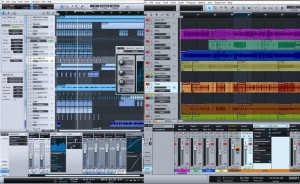 One of the most desired features of Studio One has always been it's multi-monitor capability, allowing you to split your workspace up over many monitors without being restricted to one workspace window.  We're looking forward to seeing the graphical user interface changes to Studio One with this new version.
New Sound Libraries and content 
New Studio One versions have typically introduced new sound libraries and content to allow you to quickly create music on the fly, and we're excited to see the new sound library offerings from PreSonus in this new version.
New workflow improvements and feature integrations 
PreSonus is well-known for listening to their users' requests for software improvements.  Many of the great features of Studio One have come from PreSonus listening to their users, so we're expecting that Studio One Version 3 will be no different.  With new versions of Studio One we've seen integration with Melodyne software, further hardware integration, and more.  Because PreSonus manufactures great audio interfaces as well as Studio One, we expect to see even greater usage of these two as time goes on!
What will the new system requirements be? 
While we do not yet know what the new Studio One version 3 system requirements will be, we can only assume that like other versions of Studio One, the software will  run well on most all  computers. Of course, it never hurts to ensure that your system is properly updated and tweaked for pro audio production – that's a conversation you can continue with us over here. 
What are you looking forward to in PreSonus Studio One version 3? Let us know in the comments!